On this page, we will post photo galleries of our rehearsals, concerts and social occasions.

Unless stated otherwise, all photos are © Peter Mould. Further photos of our past concerts can be viewed on Peter's website here.


---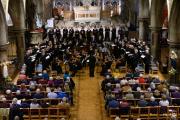 Introducing Hastings Philharmonic Choir

Due to the coronavirus pandemic, we were unable to perform throughout 2020. These photos illustrate some of the essential features of our performances using pictures from 2018-19. Hover your mouse over each photo to see a more detailed description. Click on the photo for a larger view. All photos © Peter Mould.